A Joshua Tree day trip is an escape to a landscape of towering boulders and twisty trees that look like they were dreamed up by Dr. Seuss. Joshua Tree National Park is a place where two desert ecosystems meet and winter rains can result in an explosion of color.
Given all there is so see and do, it is no wonder that over 2.5 million people visit the park each year, most of them on a day trip to Joshua Tree from Los Angeles metro or Palm Springs.
I have made this trip several times and discovered that if I get an early start, there is quite a bit to do and see in one day. Here is how to make the most of your Joshua Tree day trip.
Joshua Tree made our list of 20 Amazing Weekend Getaways in Southern California. See what else made the list!
Your Complete Guide to a Joshua Tree Day Trip
When Should I Take My Joshua Tree Day Trip?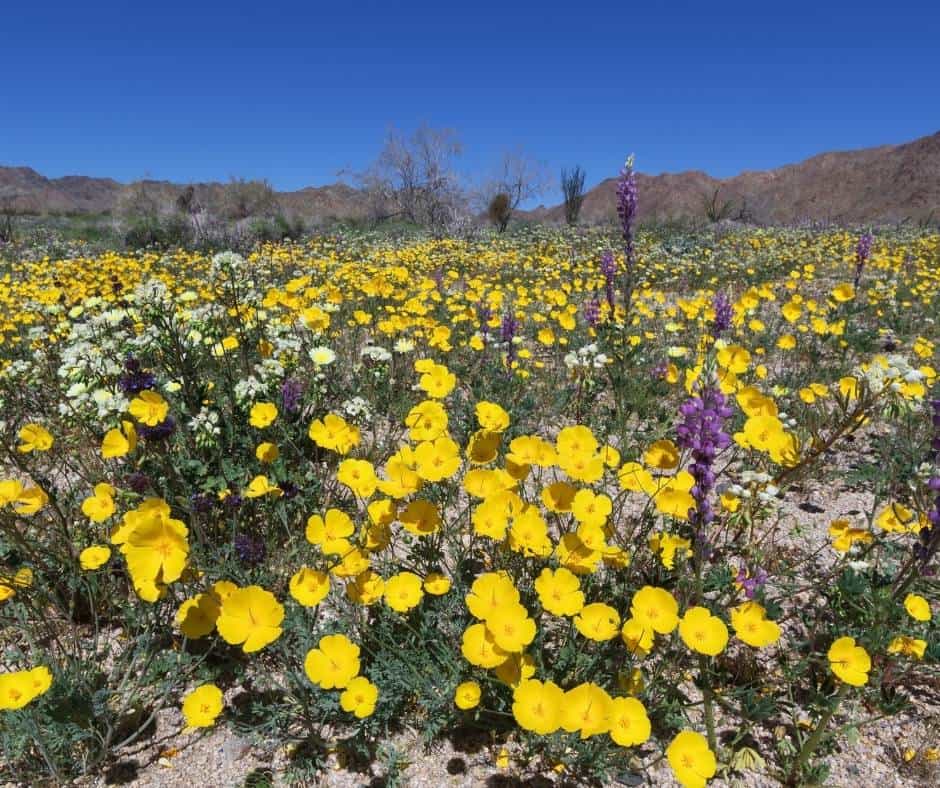 I consider Joshua Tree to be a three season park. I have visited in the winter, spring, and fall but the summer months are just too darn hot! There isn't much shade in Joshua Tree National Park and trying to climb on the sun-backed rocks can result in some serious burns when temperatures soar above 100 degrees.
Visit in mid-October through mid-April for Joshua Tree National Park visit that allows you to enjoy all that wonderful hiking and bouldering without the oppressive heat.
In my opinion, the perfect time to enjoy a Joshua Tree day trip is a weekday in the spring after a rainy winter. If you are lucky enough to time things right, you will not believe just how much colorful Joshua Tree can be. Everything blooms with such urgency and exuberance.
Winter can actually be very chilly in Joshua Tree National Park, and snow is certainly possible. But, most days are cool and clear and wonderful for exploring.
Start Your Joshua Tree Day Trip Early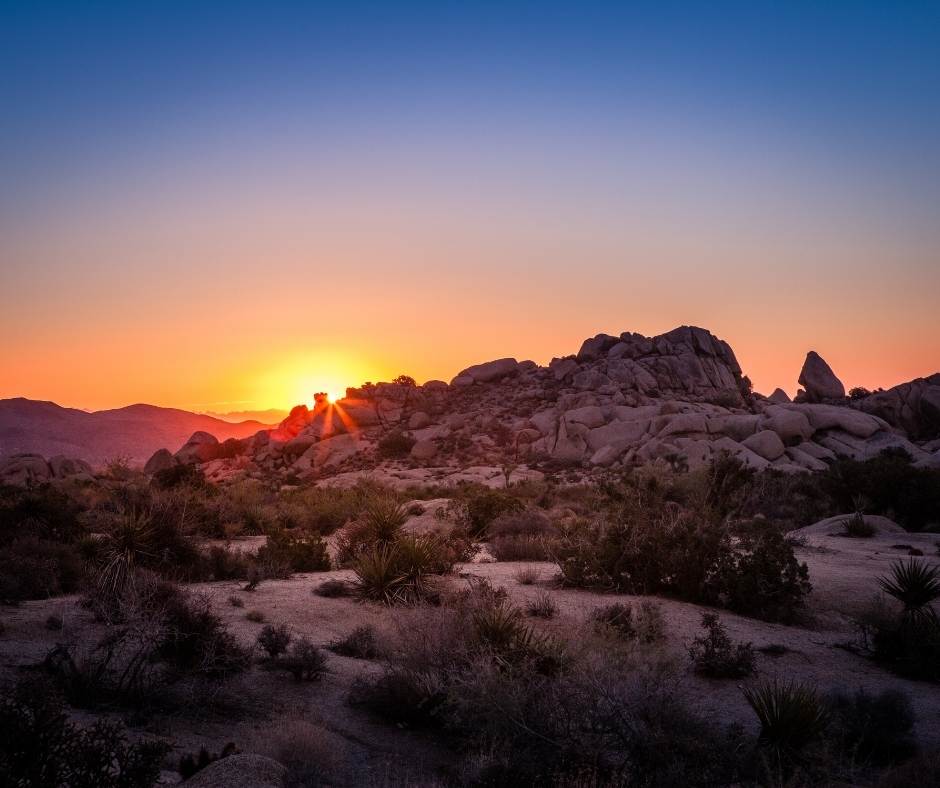 Those of us who live in Southern California know that planning our days around traffic is a way of life.
For this reason, I suggest you leave the LA area by 6am so you have plenty of time to enjoy the park and don't spend your morning stuck in rush hour traffic. Joshua Tree is about 2 1/2 hours away from downtown LA.
If you are coming from Palm Springs, which is only an hour away, you can leave by 7am and still have plenty of time to make the most of your day in Joshua Tree.
San Diego and Las Vegas are also within a day trip's drive from Joshua Tree. Given the park's proximity to so many metropolitan areas, it is no wonder that Joshua Tree is one of the 10 most visited national parks in the United States.
If you want to enjoy sunrise in Joshua Tree National Park (and trust me, you do) to capture the best photos of Joshua Trees glistening in golden light framed with soft-colored boulders, check for sunrise times and leave your home base even earlier.
What Should I Bring on My Joshua Tree Day Trip?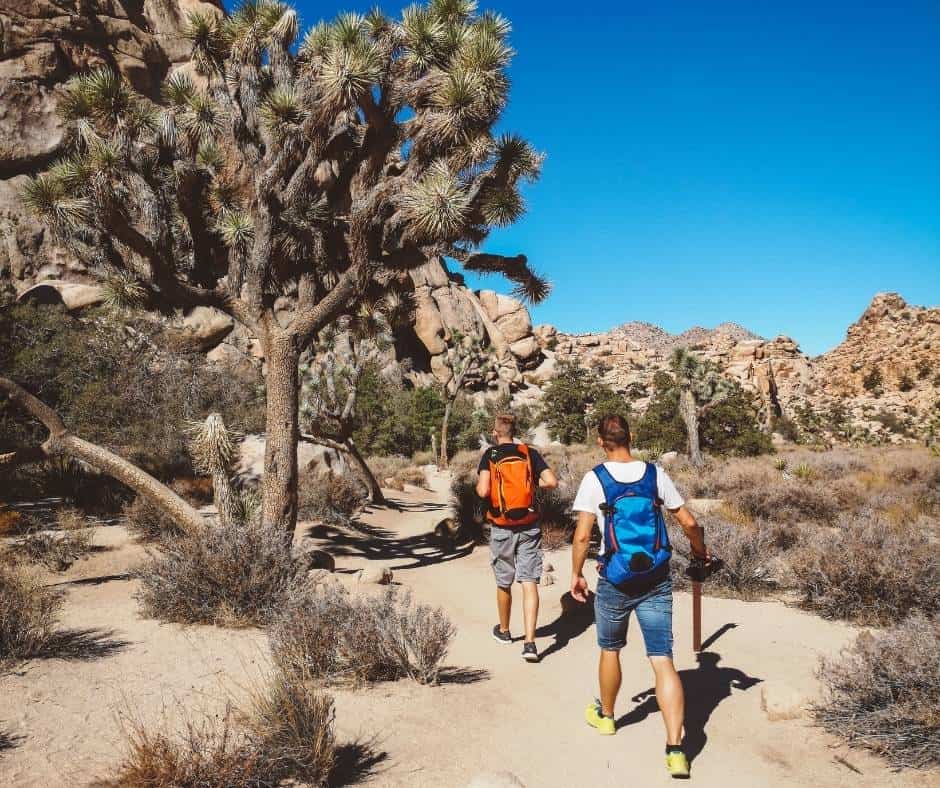 A car is essential for a Joshua Tree day trip because there is no public tranportation to the park or within the park.
Make sure that you have plenty of fuel in your tank before entering Joshua Tree National Park because there are no gas stations inside the park's boundaries. There are gas stations along Hwy 62 in Yucca Valley where you can top off.
There are no food services within the park. I like to bring a cooler full of sandwiches, drinks, and snacks whenever I visit the park.
There are several spots with picnic tables inside the park. My favorite place to picnic is among the boulders at Hidden Valley.
When I visit Joshua Tree National Park I also like to bring along a daypack with sunscreen, a hat, plenty of water (plus refills in the car), and a first aid kit.
The weather in the high desert can have big temperature swings, so come prepared with layers and always check the weather report before you go. Sturdy footwear is also recommended, especially if you plan on hiking or climbing around in the boulders. Hiking shoes give you much better grip than tennis shoes.
Keep in mind that there is virtually no cell service inside the park, so print out you itinerary. You can always pick up a park map at the visitor center or print a map out before you head out.
Admission to Joshua Tree National Park is $15 per car. Your entrance fee gives you access to the park for seven days. You can purchase your admission ahead of time via Recreation.gov.
Which Joshua Tree Entrance Should I Use?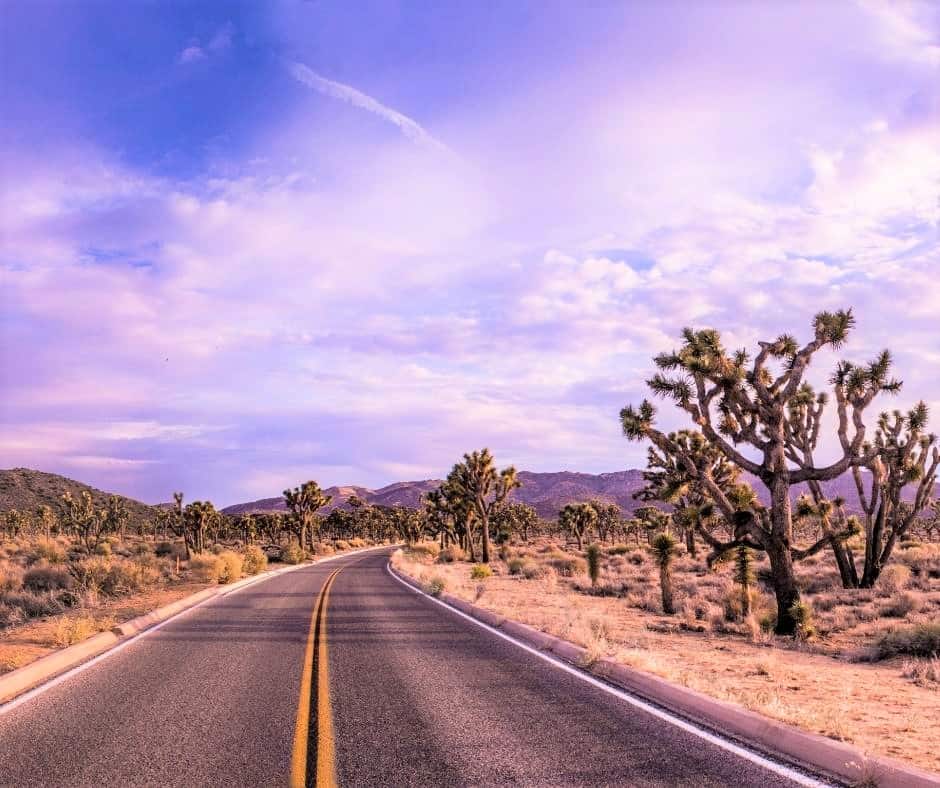 I avoid entering via west entrance to Joshua Tree National Park because a large portion of the day trippers coming from Los Angeles and Palm Springs use this entrance and the lines for entry can back up for a mile during the busy season.
I suggest entering the park at the north entrance in Twentynine Palms. The main visitor center (Oasis Visitor Center) and park headquarters are located at this park entrance so you can fill up your reusable water bottles, check out the visitor center exhibits, talk to park rangers, and use the restroom before heading out into the park.
You can also enter park via the Joshua Tree entrance but there is no visitor center at this entrance. This may or not may not matter to you. If it doesn't, entering via Joshua Tree and exiting at the west entrance is another great strategy for a Joshua Tree day trip.
If you enter the park in the high desert and exit in the low desert, this will give you a chance to see a large portion of the park's main attractions without backtracking.
10 Things to do on Your Joshua Tree Day Trip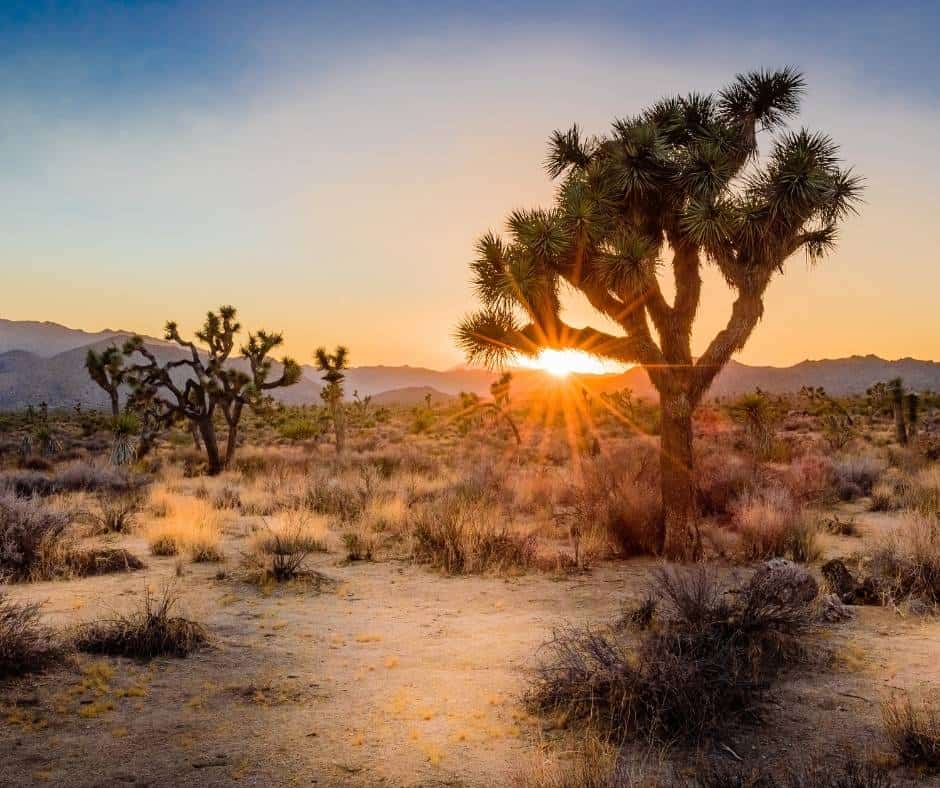 Joshua Tree is one of those parks where it is actually quite easy to hit all the major highlights in one day. Of course, we would all love to have multiple days to fully immerse ourselves in the national parks, but sometimes that just isn't possible.
Here are 10 things I have done in a day trip to Joshua Tree National Park. Unless you are a really fast hiker, you may have to pick and choose between all the hikes I mention, but most are short so it is possible to do most of them in a single day.
Remember part of the joy of Joshua Tree National Park is enjoying the views on your scenic drive through the park. It is also important to take time climb the boulders. They make for a natural playground that simply can't be resisted!
1. Start Your Day With a Hike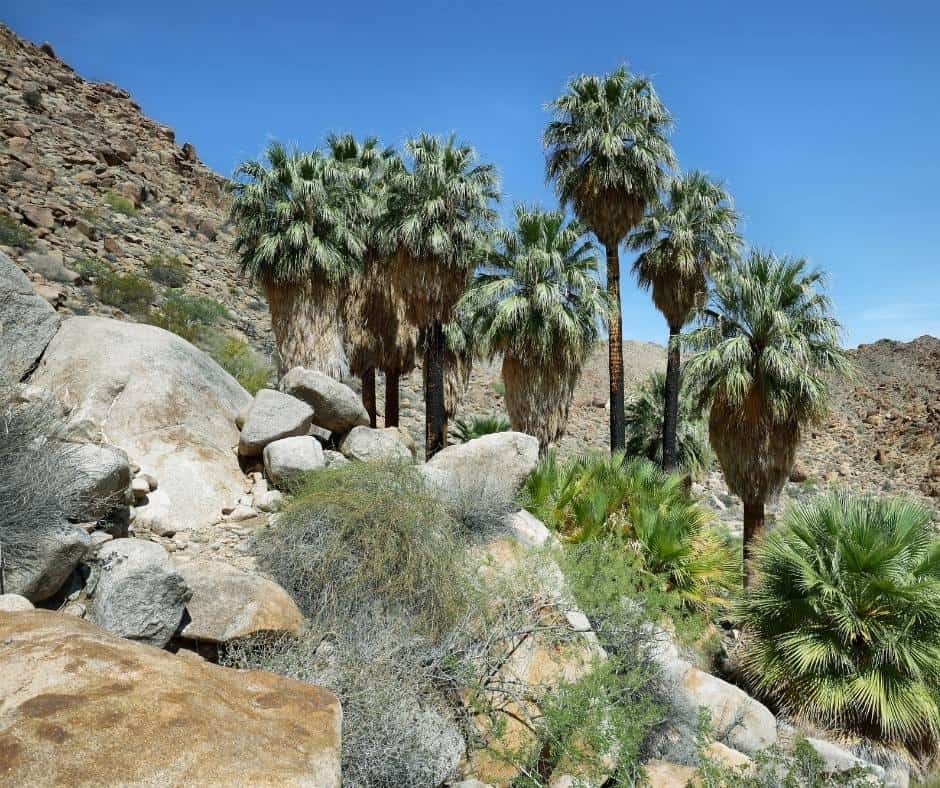 The Oasis of Mara is located next to the Oasis Visitor Center. There is a short, paved, nature trail (0.6 miles) which loops around the oasis and is a nice place to stretch your legs after your drive.
Another great early morning hike option is the scenic hike to 49 Palm Oasis. This hike is found on a spur road off Highway 62 in between the Joshua Tree and Twentynine Palms entrances.
This hike gains 620 feet in elevation while making its way through classic high desert scenery to the palm oasis about 1.5 miles form the trailhead. There are plenty of boulders to scramble on along the way.
2. Stop at Skull Rock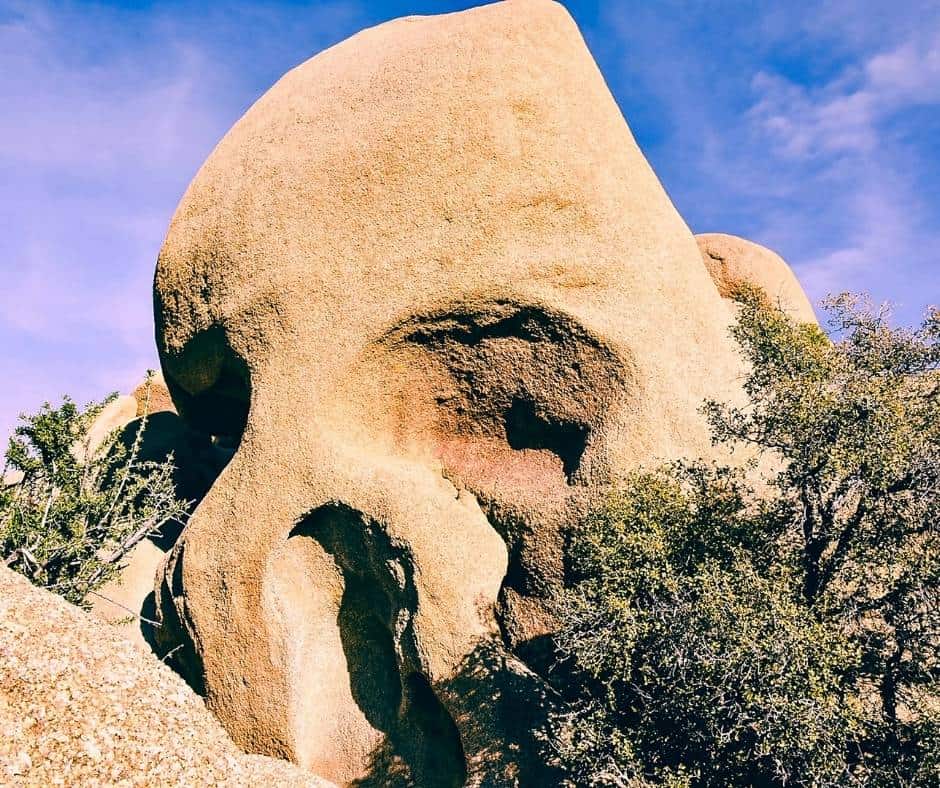 Skull Rock is a massive boulder off Park Boulevard that really does look like a skull! Park alongside the road and enjoy scrambling and exploring the piles of boulders in this area.
There is a 1.7-mile trail from the Jumbo Rocks campground, but I think it is far more fun to just climb on the rocks and create my own trail through the boulders. Just pay attention to your surroundings so you don't get lost!
3. Go Bouldering in Hidden Valley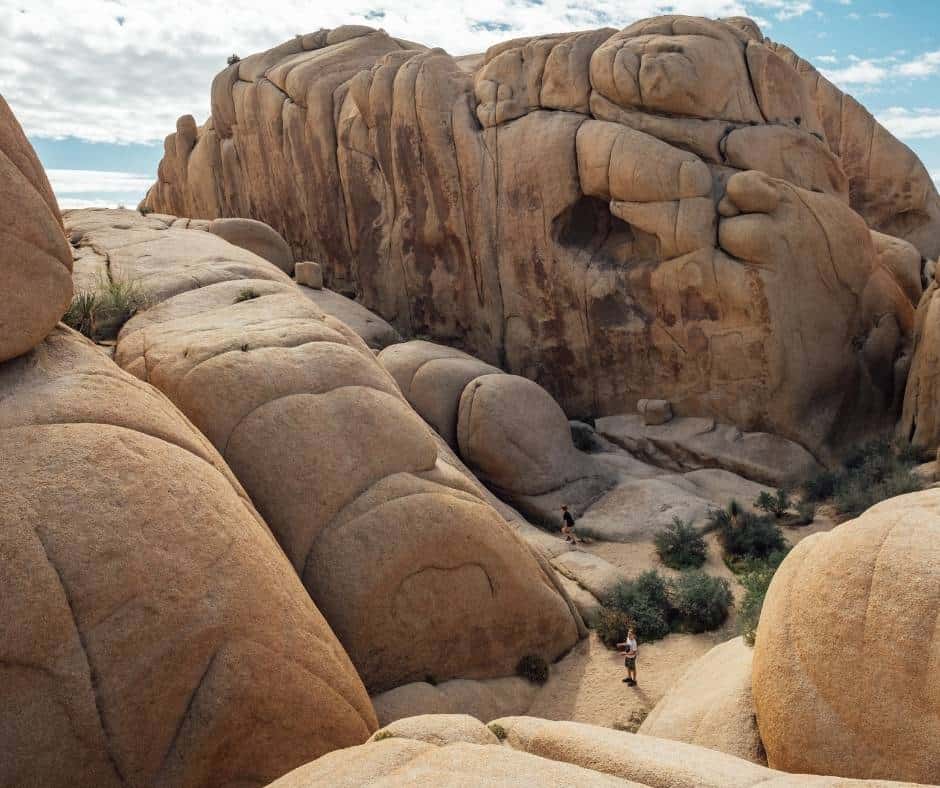 Hidden Valley is another great spot to climb and scramble over massive boulders. There is a nice 1-mile loop trail which circles around the Hidden Valley area, but you will likely be tempted to wander among the boulders instead of staying on the trail.
Just be careful and make sure you know how to get out of any of the spaces you climb into (speaking from experience with my son).
Hidden Valley has several picnic tables near the parking lot, making it a great spot to stop for lunch. There are also bathrooms.
4. Climb Ryan Mountain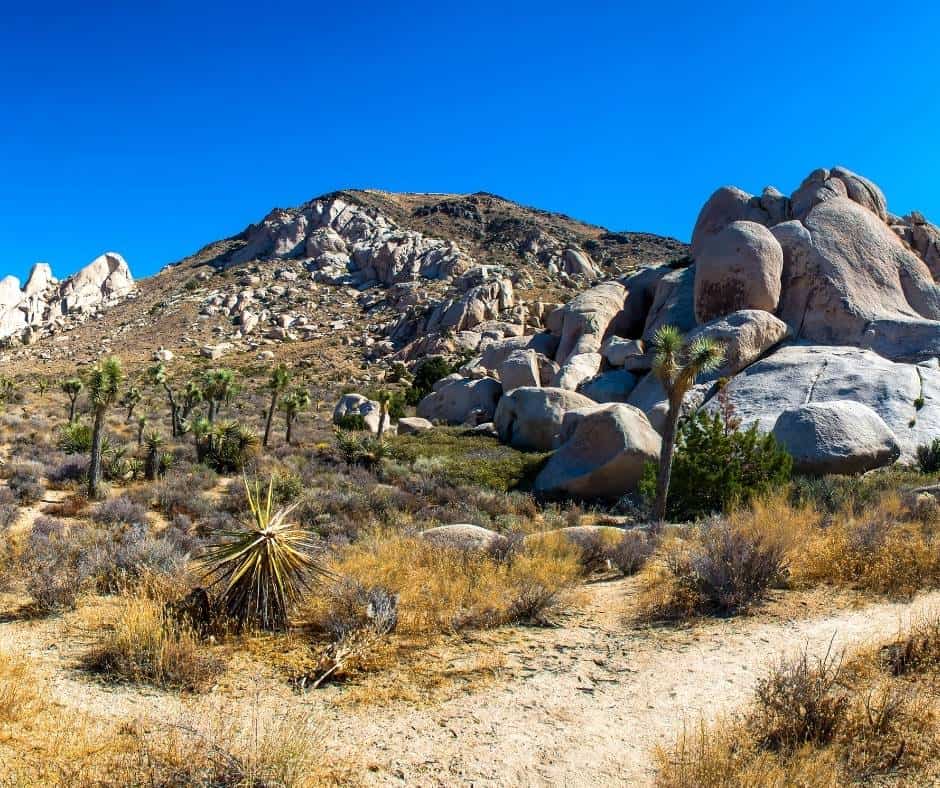 If you are looking for a hike that will get you huffing and puffing and reward you with amazing views at the top, head up to the top of Ryan Mountain's 5,461 summit.
This popular hike gains 1,000 feet in 1.5 miles. Once at the top, you will be able to take in 360 degree views of the desert. If you are adding this hike to your Joshua Tree day trip itinerary, I suggest doing it when temperatures are cooler, either early or late in the day.
5. Visit Barker Dam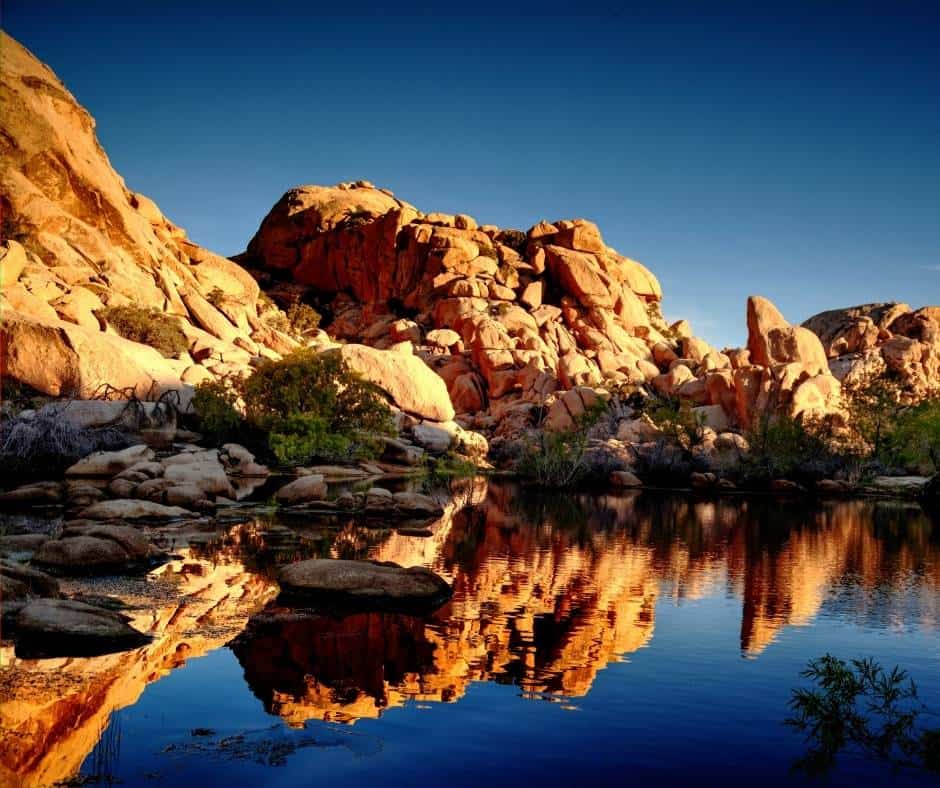 Water comes at a premium in the desert so it is no surprise that the local bighorn sheep use Barker Dam as a watering hole.
Barker Dam is accessed via an easy, 1.1-mile loop trail. There are plenty of boulders to scramble on along the way, as well as some interesting prehistoric rock art. Remember- look but don't touch!
6. Tour Keys Ranch
Ranger-led tours are great ways to learn about the history or national park. The Keys Ranch Tour is no exception.
This 90-minute guided walking tour takes visitors to the former homestead of Bill and Frances Keys, one of the hearty families that called this part of the country home long before it became a national park.
The homestead includes a ranch house, schoolhouse, and store, as well as several artifacts still at the ranch. It is fascinating to learn about what it took to live in such a remote and harsh environment long before the days of air conditioning and wifi.
You can only buy tickets at the Oasis Visitor Center in Twentynine Palms, beginning at 8:30am each day. Tours are limited to 25 people and do sell out.
The cost is $10 for adults and children 12 and older, $5 for seniors, $5 for children 6 to 11, and free for 5 and under. Visit the park's calendar page for tour times.
7. Drive Up to Keys View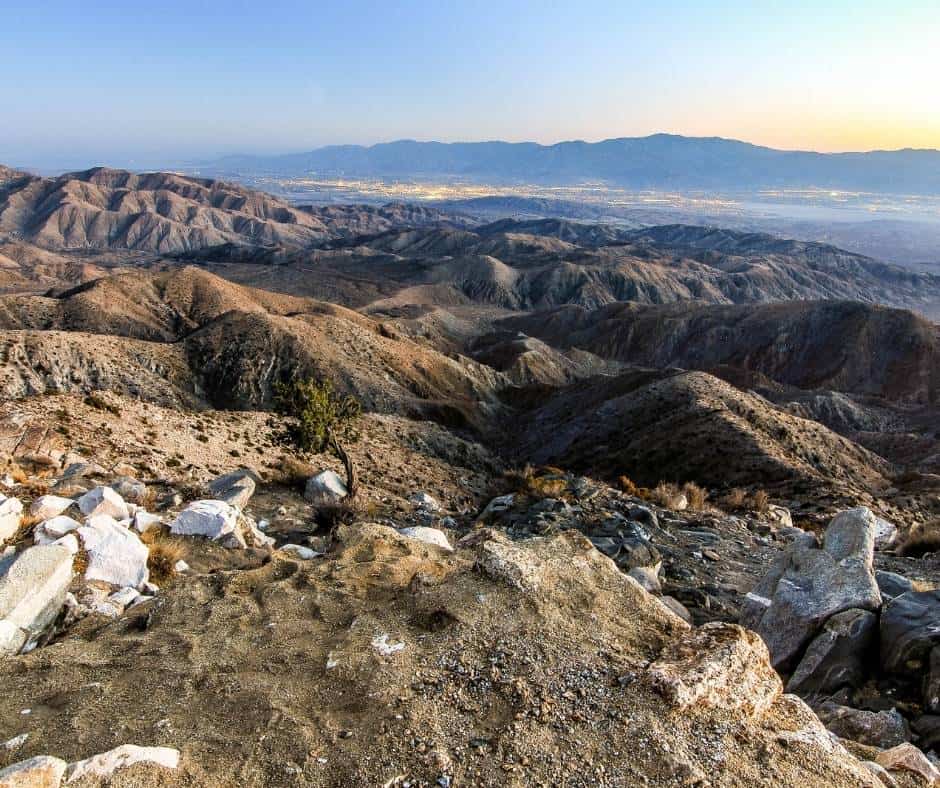 One of the most popular things to do on a Joshua Tree Day Trip is drive up to Keys View and take in the sprawling views of the Coachella Valley, Mt. San Jacinto, Mt. San Gorgonio, the Salton Sea, and even the San Andreas Fault. Rumor has it that on clear days you can see all the way to Mexico but I have never been that lucky.
Keys View sits at 5,000 feet above sea level on the crest of the Little San Bernardino Mountains. You can basically park right at the viewpoint so this can be a quick pit stop.
8. Climb Arch Rock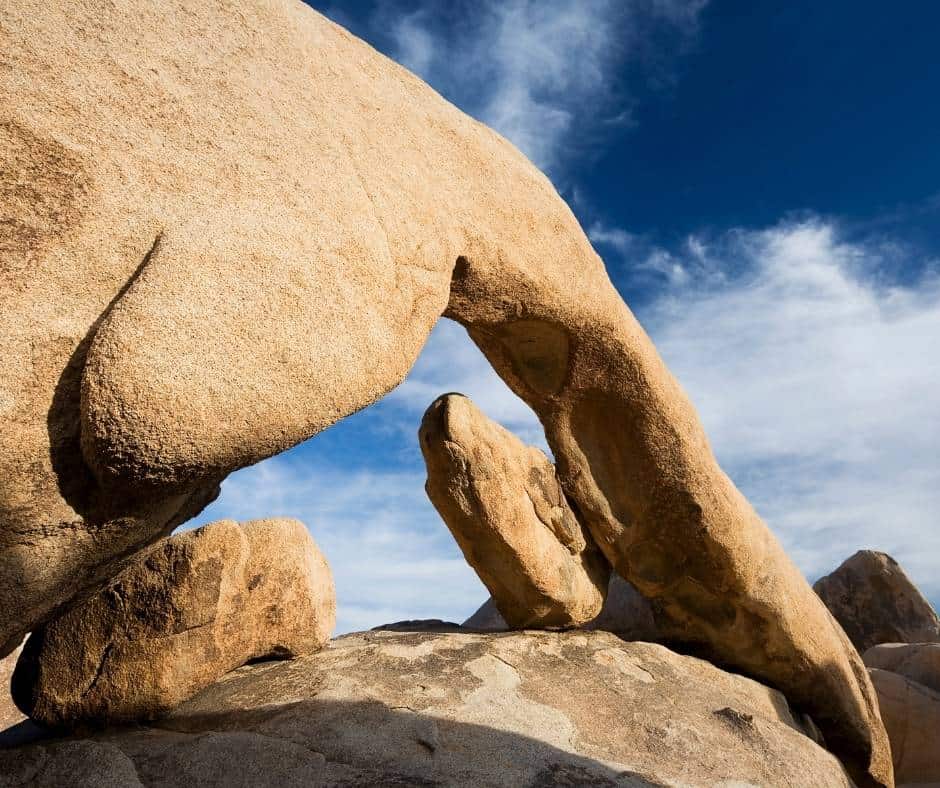 As you start to make your way towards the low desert potion of the park, make time to stop at (and climb) Arch Rock. Unlike the arches formed by erosion that are common in Utah, this arch was created by lava pushed up through a fault line!
The trail to Arch Rock is flat, easy (provided you aren't hiking in the heat!), and only 1.2 miles in length round trip.
Note: Arch Rock is a popular spot for photos so will likely have to wait your turn to get that perfect shot.
9. Look But Don't Touch at the Cholla Cactus Garden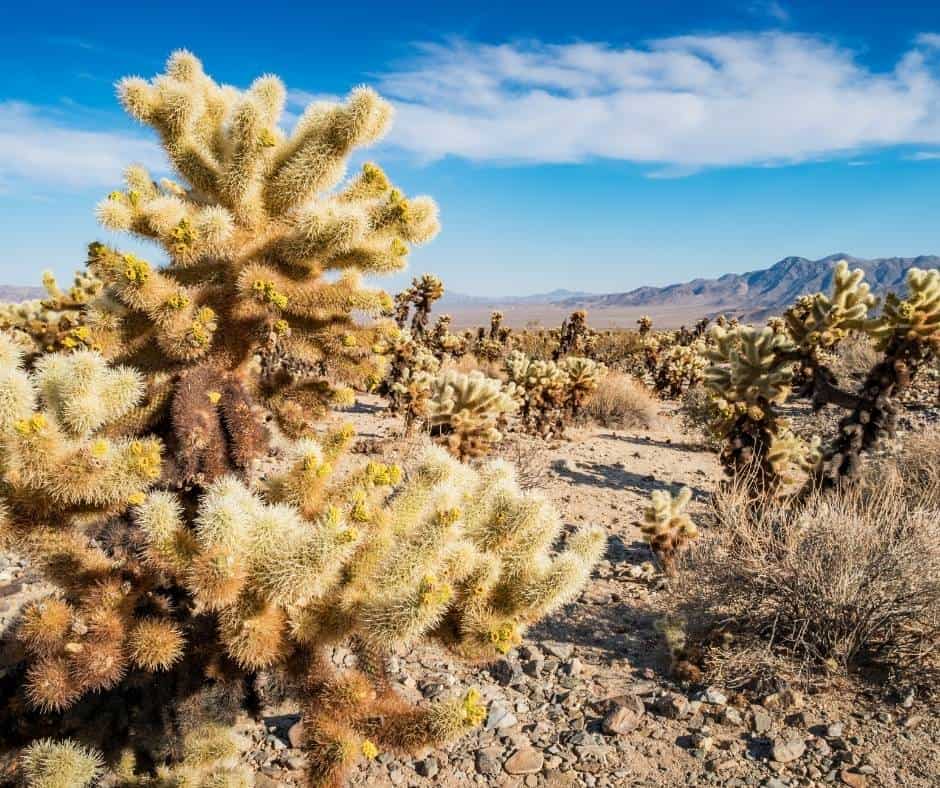 Located near where the high desert and low desert converge, the Cholla Cactus Garden is home to a large parch of cactus that look cuddly- but resist your urges to touch!
In actuality. the "Teddy Bear Cactus" has needles that will attach to anything that touches them using curved barbs on their tips. They attach quite easily, giving them the nickname of "jumping cholla" because some people swear that needles jump right off the cacti (psst… they don't).
There is short, .25-mile trail that meanders through the patch. It is quite photogenic during sunrise and sunset.
10. Admire the Ocotillos at Ocotillo Patch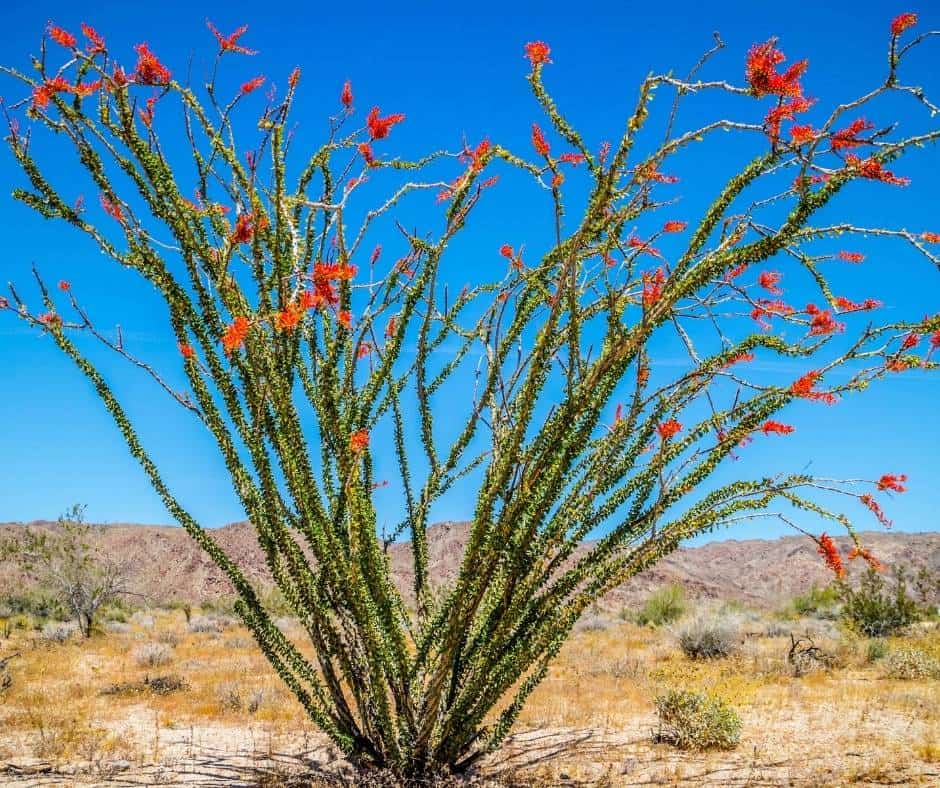 A short drive from the Cholla Cactus Garden is the Ocotillo Patch, an impressive collection of these tall and elegant desert plants. The ocotillos are particularly beautiful in the spring when they are adorned with red-orange blossoms.
Experience the Milky Way on Your Joshua Tree Day Trip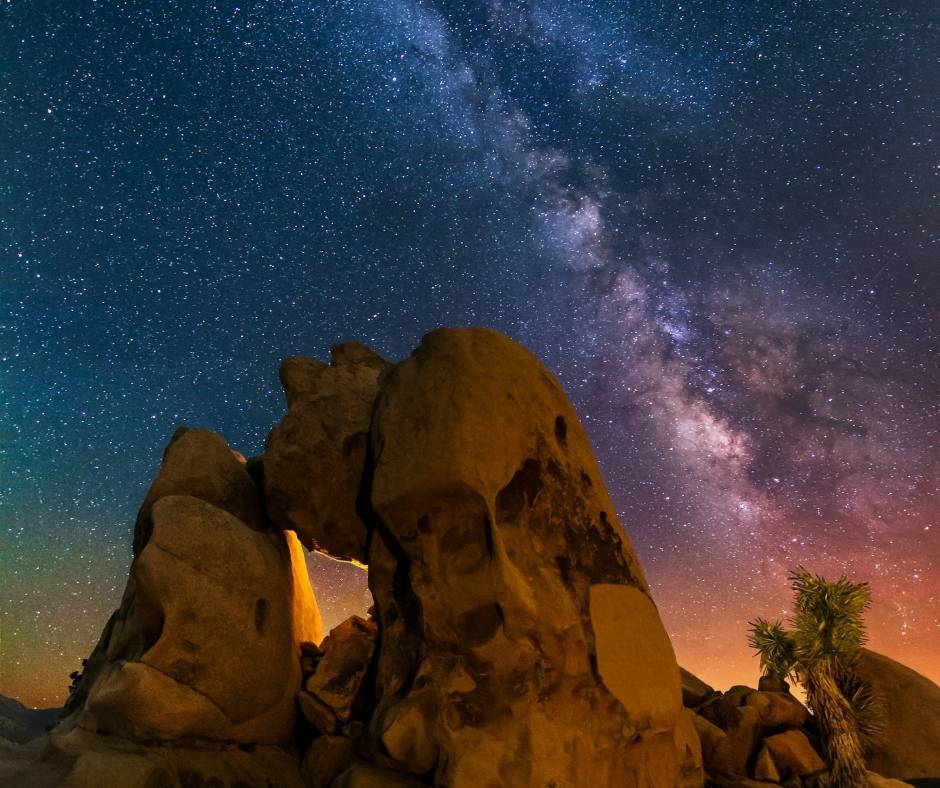 If the sky is clear (as it often is in the desert), consider staying to enjoy the desert at night. The night sky in Joshua Tree National Park is far diffrerent than most of us experience in the metropolitan areas we call home. The Milky Way is visible in Joshua Tree National Park, and the black sky is brilliantly dotted with stars.
Rangers will often host night sky programs and have their telescopes out for visitors to use. Check at the visitor centers to see if any programs are scheduled during your visit.
Explore more of California's national parks. Check out our guide to the perfect Yosemite day trip.